Roe Froman, DVM, President
Dr. Froman has been a practicing veterinarian since 1990, and a dedicated Clumber fancier since 1995. As BlueMoon Clumber spaniels, she and her husband take pride in breeding beautiful, sound, athletic Clumbers with excellent field abilities.
Health has always been a priority, both professionally and as a Clumber fancier. Genetics has been an avocation for many years, and she enjoys combining today's scientific advancements with the art of breeding. If they aren't healthy, the rest doesn't really matter!
Dr. Froman was the Founding President of the Clumber Spaniel Health Foundation. Now serving as a Director, she believes in the Foundation goal of advancing Clumber health worldwide.
Grace Wozniak, Vice President
When researching breeds for their first dog as adults, Grace and her husband came across a description for a Clumber Spaniel. It sounded like a dog that would meet their requirements, and off they went to meet some. It was love at first sight, and Grace welcomed her first white spaniel into her home in 2004. Her second arrived less than a year later and she began showing in conformation. As the years went by, she knew that this will always be a breed she will cherish. During her many years involved with Clumbers, she has paid attention to health concerns and welcomes the opportunity to serve and improve the breed.
Jan worked in the pharmaceutical industry as a research biochemist. While living in the UK in 1989, she fell in love with Clumber Spaniels and imported her foundation Clumbers from the world-renowned Raycroft kennel to establish Critter Clumbers.
Over the years, Jan has served the CSCA in many ways: as Ways & Means Chair, as a board member for 3 years, as a member of the Illustrated Standard Committee, and as co-chair of the 1997 CSCA National.
Jan is no longer breeding Clumbers but remains devoted to her beloved pets. Her commitment to the breed and to health issues, together with her scientific background are cherished assets for the Foundation.
Jan retired in 2003 and moved from Michigan to Texas to be near family. Jan took up quilting in retirement and has made many beautiful T-shirt quilts that have been auctioned at the Clumber Spaniel National shows to benefit the CSHF.
Shelley Miller, Treasurer
Shelley is a Registered Nurse who has worked in acute healthcare and healthcare administration for more than 25 years. Her understanding of medical issues combined with her professional skills and collaborative style are valuable assets for service on the health foundation board. Shelley's passion for the breed is reflected in her memberships in the Clumber Spaniel Club of America, Clumber Spaniel Fanciers of Michigan, Owner-Handler Association of America, Inc. and Durham Kennel Club.
Her love affair with the Clumber Spaniel started in 2006. She has been honored and privileged to learn this breed from many outstanding Clumber Spaniel breeders and lovers along the way. This knowledge and experience has helped her to establish a breeding program of her own. Shelley participates in various activities with her Clumbers, including tracking, hunting, conformation, obedience, and most recently Barn Hunt. Shelley believes a healthy Clumber Spaniel CAN do it all!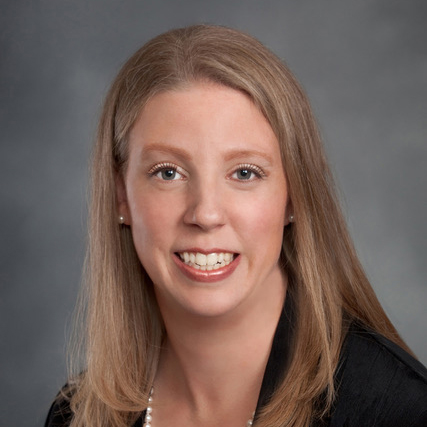 Jennifer Amundsen, Director
Ms. Amundsen has been practicing law in Madison, Wisconsin, since 2003 when she graduated from the University of Wisconsin Law School. Among other areas of practice, she brings her many years of legal experience to bear on matters affecting companion animals and horses; their owners, breeders and trainers; and related businesses, clubs, and organizations. A devoted lover of dogs in general, and specifically Clumber Spaniels, she is active in her local all-breed club, Badger Kennel Club, as well as the Clumber Spaniel Club of America. Ms. Amundsen is active on social media as The Dog Savvy Lawyer (find her on Facebook at facebook.com/dogsavvylawyer or follow her on Twitter @dogsavvylawyer).
Kim has been involved with Clumber Spaniels since 1997 and on the board of the CSHF since its founding in 2007.
Kim and her husband Cyrus created the Piper Fund in 2006 in memory of Am/Can Ch Bella Vita The Sandpiper, a four year old Clumber bitch lost to IMHA. This fund was a great impetus to the creation of the CSHF, which today oversees the management of the fund.
She lives in Pittsburgh with Cyrus, their two children, and Clumbers, Hudson and Gin. In addition to showing her dogs in conformation, Kim also enjoys tracking, obedience, and (watching) hunt tests. If only she wasn't spending all of her free time watching her kids play soccer and ride horses.
Jayde was introduced to Clumber Spaniels on a hunting trip in 2001 and has been in love with and stayed involved with the breed ever since. She started showing her own Clumbers in 2003 and has been participating in AKC hunt tests for the past 10 years.
Achieving and maintaining good health and soundness of the Clumber Spaniel breed is a specific focus of hers. She believes it makes the best foundation for all the activities the Clumber is capable of doing.
She has worked in veterinary clinics since 1998 and became a licensed veterinary technician in 2007. Along with helping all animals stay healthy, her special interests include animal behavior (specifically dog behavior) and exotic animal medicine. She also spent 13 years working in a veterinary emergency clinic.
Jayde lives on the Western border of Wisconsin with her husband, daughter, 2 Clumber Spaniels, 1 cat, 1 tortoise, and a pet snake. She has been a member of the Clumber Spaniel Club of America since 2006 and maintains memberships with the Clumber Spaniel Club of Canada and the Minnesota Hunting Spaniel Association.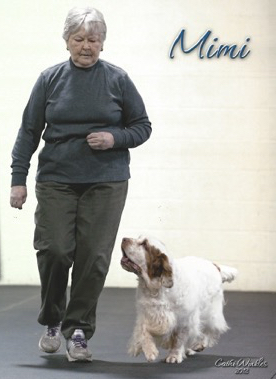 My St. Bernard came to me at five months of age (in 1975), and I needed help controlling her enthusiasm, so I signed up for obedience classes! As the class became the highlight of my week, I arrived early each night, and it was there I saw the instructor working her Clumber Spaniel, Oakhill's Lady Liberty. I fell in love with that attentive little dog (compared with my Saint) and her wonderful attitude towards everyone and everything, and I told the owner that if she ever bred her, I would be interested in a puppy. Two years later, I got a postcard telling me that a litter had been born and two boys were available. In November 1977, we brought home Liberty Drummer, who began my life in Clumbers!
Over the past 30+ years I have bred 13 litters (total of 50 puppies), finishing 9 champions, 4 CDs, 2 CDXs, an MX/MXJ, AXP, and an MJP, as well as two with Open & Excellent agility titles (two others, owned by someone else, with agility titles), and I produced 16 Clumbers with OFA hips.
After serving as Editor of the CSCA Bulletin from 1986–1992, I served as breed columnist for the AKC Gazette for many years. I have been the CSCA OFA Representative for at least 15 years, and I was the Awards Record Keeper for approximately the same amount of time. I also served as AKC Delegate for four years. I am now retired and keep busy training a couple of Clumbers in agility.
I am honored to be a member of the Board of Directors for the Clumber Spaniel Health Foundation.
Wayne has been in the investment business for more than 25 years and has been involved with Clumbers for more than a decade. He brings strong leadership and business management skills to the CSHF. Wayne was a founding director of the Clumber Spaniel Health Foundation and is thrilled to return and devote time to the foundation and its mission, which he strongly believes in.
He is a member of the Clumber Spaniel Club of America, Williana Clumber Spaniel Club and the Atlanta Kennel Club. He has served as an officer and director of the CSCA, and currently serves on the Finance Committee of the Atlanta Kennel Club. He enjoys many activities with his dogs including breeding, training and handling.
Wayne lives in Georgia with his wife, Kellie, and a houseful of Clumbers.
Douglas Johnson of Bloomington, Indiana, received his first AKC purebred dog, a Clumber Spaniel, as a birthday present from his parents, which has led to a lifetime dedication to the sport of purebred dogs. Breeding under the world-famous Clussexx prefix, he has produced more than 250 champion Clumber Spaniels, Sussex Spaniels, Welsh Springer Spaniels, English Toy Spaniels and Pekingese. He has a passion for breeding dogs and continues to run a top breeding program today. His dogs have won more than 150 Best in Show awards and 14 national specialties across four breeds.
Mr. Johnson has produced two Westminster Best in Show winners and is the only breeder to have bred Westminster BIS winners in two different breeds: in 1996, the Clumber Spaniel Ch. Clussexx Country Sunrise ('Brady') and in 2009 the Sussex Spaniel Ch. Clussexx Three D Grinchy Glee ('Stump'). Stump, at 10 years old, was the oldest dog to ever win BIS at Westminster.
Mr. Johnson was awarded American Kennel Club's Sporting Breeder of the Year award in 2005 and was a Judge of the Year Nominee for 2017. He is a member of the Santa Barbara Kennel Club, Hoosier Kennel Club, The Bloomington Indiana Kennel Club, Hoosier Kennel Club, Bluegrass Pekingese Club and is a lifetime member of the Clumber Spaniel Club of America. He is currently the vice president of the Clumber Spaniel Club of America